B
ack in 2008 I decided it was a time to do a complete makeover.
Since I was planing to keep the car and not sell it, I wanted the whole car restored and to create the "show piece" it is today. So I took my car to Wheeling, West Virginia for a complete makeover.

I met Gary Bitzer through Tccoa.com. He is the biggest Thunderbird NUT and his employees know their stuff. It was great to meet them all and see their work. You definitely want his shop doing work on your car! It was kind of like Overhaulin' episode except it was sponsored by me! LOL!



I actually flew to West Virginia to see it get painted in person. Let me tell you, what a
great experience that was!
It took me a while to decide on what color to go with.
All i knew is that i wanted it to be one of a kind and not to see it on the road on any other car. So Gary and I worked on mixing different types of colors to get this color. It started as Lamborghini
Murcielago Orange but then we changed the pigment and base color to get a different shade of orange. The finishing touch was several coats of DuPont Hot Hues clear coat.

































As you can see, the car was stripped almost to bare metal. Then all imperfections in the metal were removed and bodywork was done. It was completely disassembled for all the parts to be edged in. Then it was re assembled for a complete paint job including door jambs, engine bay, ect.
Bumpers, moldings, and ground effects were all painted separately and all new trim and hardware was installed. This included all new bolts which are zinc coated and used on the fenders and hood latches. All around amazing work by Gary.
Since I had it painted, I went through several sets of wheel until I found the set I liked. Here are couple pictures of different sets I used to have.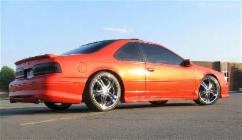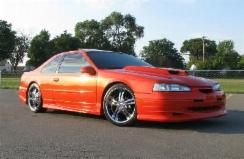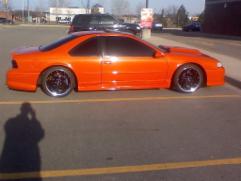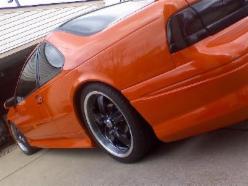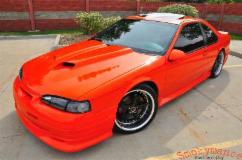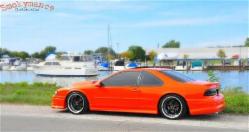 Custom made fiberglass sub woofer enclosure was made by my buddy Shawn. This was done in summer of 2007 and took us close to 2 months of late nights and sometimes all day to complete. the result is LOUD and CLEAR highs and lows. You can definitely hear me coming from far away:)








Finally more power:) All the work was done by my buddy Alex. So much time and work had to be done to make it all fit. Every time I opened the hood, the first thing people ask me is:"How in the hell did you make that fit"? Not much room left in the engine bay:). DOHC Engine with SC is a great combo and it is tuned for street. I can drive it all the time and never even go in the boost. Believe it or not this thing gets 20+mpg regularly. Not bad eh?